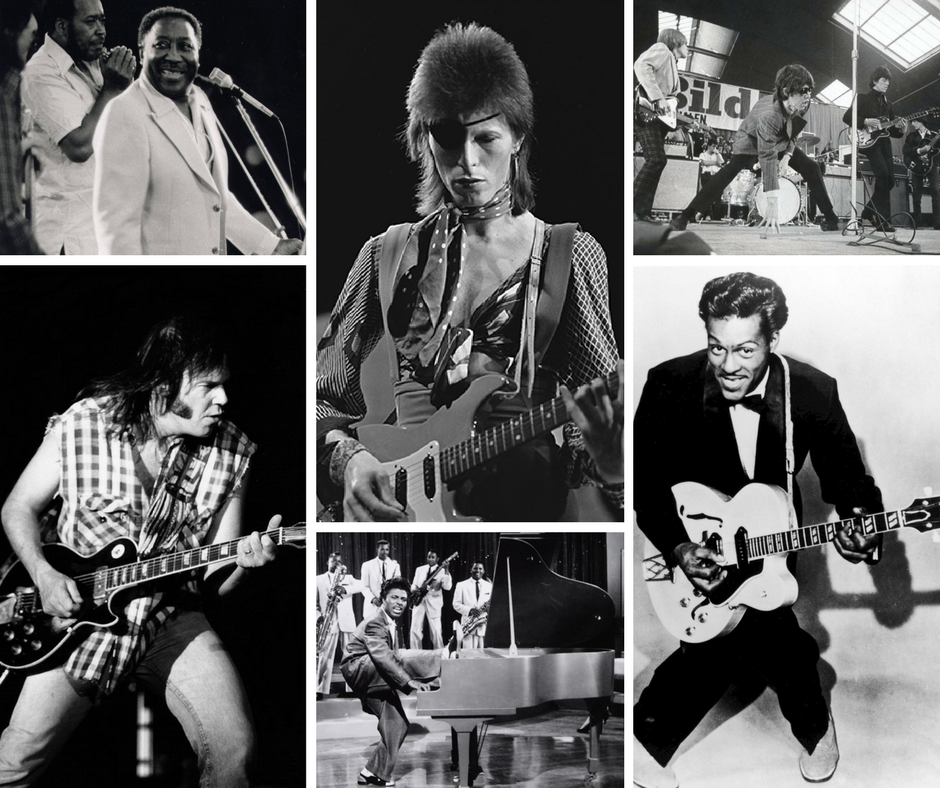 Neil Young taught artistic restlessness. The Stones' taught top-tier craftsmanship backed with the looseness of pure boogie. David Bowie taught theatricality.
For musicians, listening to legends is like being in school, and those lessons are often life changers.
In Seduced by Sound: Austin, we asked some of Austin's best artists to talk about those life-changing moments. We also wanted to know which music legends have had the most influence – who has shaped the sound of Austin?
When we tallied the number of times these influential artist were mentioned, the results weren't surprising. In part one of this post, we named the top four: The Beatles are by far the most influential, followed by Dylan, Hendrix and Elvis.
In part two we offer what local musicians say about the next six major influences: Neil Young, David Bowie, the Rolling Stones, Muddy Waters, Chuck Berry and Little Richard. (These aren't in order; most of these folks were in a tie – also not surprising.)
Here are more of our favorite "music lessons" from Seduced by Sound: Austin.
NEIL YOUNG
"My mom played me 'The Needle and the Damage Done' on her Epiphone acoustic when I was 3 or 4 years old. I knew it was important, but I didn't know why."
—John Michael Schoepf (The Happen-Ins)
"I was 7 years old the first time I heard Neil Young on the radio in Paris. I fell in love immediately with his words and the delivery. He has still such an intimate delivery yet a huge sound. . . . Some of his songs get my creative juices going after just one bar — 'Cowgirl in the Sand' and 'Down by the River' are in my top five favorite tunes."
—LouLou Ghelichkhani (Thievery Corporation, BONEFUR)
"From Neil's records and from his biography, Shakey, I've learned artistic restlessness, never trying to harvest the same ground for too long before moving to other creative territory for a while."
—Evan Charles (Altamesa)
DAVID BOWIE
"Nothing affected me as much as David Bowie's The Rise and Fall of Ziggy Stardust and the Spiders from Mars. The weird just kept getting weirder from then on."
—Justin Wade Thompson (Boosy Cray)
"Performers like Bowie inspired us to make our live performance a theatrical show, and we've put on our costumes and danced at every show we've played, be it for a lone bartender or a thousand-person crowd. Perhaps what's most inspiring about Bowie was the way he never stopped moving forward."
—Aaron Miller (Sphynx)
THE ROLLING STONES
"From the Stones you learn the art of looseness and boogie, but at the same time of top-tier craftsmanship. You look at some of the stuff they've done that's going to stand up forever, and it gives you a glimpse into what something with true staying power and endurance looks like."
—Evan Charles (Altamesa)
MUDDY WATERS
"(Ian McLagan) loved rhythm and blues, and the early blues guys had a lot of influence on him. There was piano in a lot of that old blues music, all those stabby little piano bits. That's where he got his early style — Memphis Slim, Otis Spann, who played with Muddy Waters, and Booker T. Jones. He told me he heard Muddy Waters one night and it changed his whole life."
—Todd V. Wolfson, photographer, in a tribute to Ian McLagan
CHUCK BERRY
"Seeing Chuck Berry do the duck walk on the Johnny Carson show as a kid made me say, 'I wanna do that' He had it all — great voice, great guitar playing, possibly the best lyrics ever and, most important to me, he had that X factor as an entertainer that cannot be learned."
—Jesse Dayton
LITTLE RICHARD
"When I was 4 my parents had a tape that had Little Richard and Jerry Lee Lewis on it. 'Tutti Frutti' was the A side and 'Great Balls of Fire' was the B side. That made me dance, and I also knew that was important."
—John Michael Schoepf (The Happen-Ins)
"An early childhood memory that sticks with me is seeing Little Richard for the first time on television. I remember asking my mother, 'Why does he look like that?' Her response was perfect: 'Because he's Little Richard.' I understood it immediately."
—Justin Wade Thompson (Boosy Cray)
A WAY TO SAY THANK YOU
Because Weeva projects are also about gratitude, we wanted to give Austin musicians a way to thank the top muses by writing notes in copies of the book. We're sending those books to the ones who are still with us, including Paul McCartney, Neil Young, Little Richard, Chuck Berry and others. We hope to let these great artists know just how influential they are on a personal level. It's a way for us to collectively thank them for inspiring the sounds of Austin.
WANT MORE STORIES?
Get your book now at SeducedbySound.com. If you want to know more about Weeva's custom books, check out Weeva.com.
PHOTO CREDITS
All photos public domain or licensed according to Wikimedia Commons.
Neil Young, Barcelona, 2007. Photo by F. Antolín Hernandez.
David Bowie, from AVRO's Dutch television show TopPop, 1974.
The Rolling Stones – Brian Jones, Mick Jagger, Keith Richards and Bill Wyman – Stockholm, 1966.
Muddy Waters, with James Cotton, Toronto, 1978.
Chuck Berry: Publicity photo by Universal Attractions, 1957.
Little Richard, at the University of Texas Forty Acres Festival, 2007. Photo by Anna Bleker.